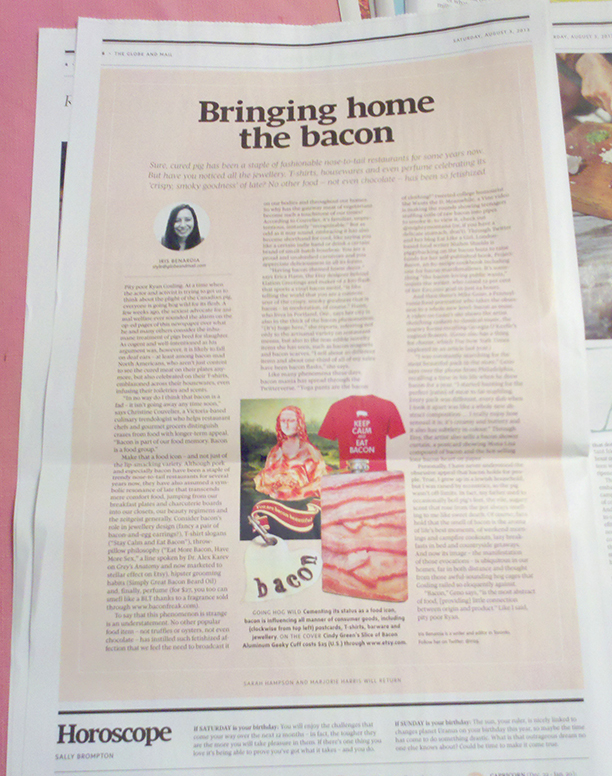 Food iconography: Bacon mania makes a muse of meat
IRIS BENAROIA
Special to The Globe and Mail
Published Saturday, Aug. 03 2013, 12:00 AM EDT
Last updated Tuesday, Aug. 06 2013, 3:10 PM EDT

Pity poor Ryan Gosling. At a time when the actor and activist is trying to get us to think about the plight of the Canadian pig, everyone is going hog wild for its flesh. A few weeks ago, the sexiest advocate for animal welfare ever sounded the alarm on the op-ed pages of this newspaper over what he and many others consider the inhumane treatment of pigs bred for slaughter. As cogent and well-intentioned as his argument was, however, it is likely to fall on deaf ears – at least among bacon-mad North Americans, who aren't just content to see the cured meat on their plates anymore, but also celebrated on their T-shirts, emblazoned across their housewares, even infusing their toiletries and scents.
"In no way do I think that bacon is a fad – it isn't going away any time soon," says Christine Couvelier, a Victoria-based culinary trendologist who helps restaurant chefs and gourmet grocers distinguish crazes from food with longer-term appeal. "Bacon is part of our food memory. Bacon is a food group."
Make that a food icon – and not just of the lip-smacking variety. Although pork and especially bacon have been a staple of trendy nose-to-tail restaurants for several years now, they have also assumed a symbolic resonance of late that transcends mere comfort food, jumping from our breakfast plates and charcuterie boards into our closets, our beauty regimens and the zeitgeist generally. Consider bacon's role in jewellery design (fancy a pair of bacon-and-egg earrings?), T-shirt slogans ("Stay Calm and Eat Bacon"), throwpillow philosophy ("Eat More Bacon, Have More Sex," a line spoken by Dr. Alex Karev on Grey's Anatomy and now marketed to stellar effect on Etsy), hipster grooming habits (Simply Great Bacon Beard Oil) and, finally, perfume (for $27, you too can smell like a BLT thanks to a fragrance sold through www.baconfreak.com).
To say that this phenomenon is strange is an understatement. No other popular food item – not truffles or oysters, not even chocolate – has instilled such fetishized affection that we feel the need to broadcast it on our bodies and throughout our homes. So why has the gateway meat of vegetarians become such a touchstone of our times? According to Couvelier, it's familiar, unpretentious, instantly "recognizable." But as odd as it may sound, embracing it has also become shorthand for cool, like saying you like a certain indie band or drink a certain brand of small-batch bourbon: You are a proud and unabashed carnivore and you appreciate deliciousness in all its forms.
"Having bacon-themed home decor," says Erica Hann, the Etsy designer behind Elation Greetings and maker of a $20 flask that sports a vinyl bacon motif, "is like telling the world that you are a connoisseur of the crispy, smoky goodness that is bacon – in moderation, of course." Hann, who lives in Portland, Ore., says her city is also in the thick of the bacon phenomenon. "[It's] huge here," she reports, referring not only to the artisanal variety on restaurant menus, but also to the non-edible novelty items she has seen, such as bacon magnets and bacon scarves. "I sell about 20 different items and about one-third of all of my sales have been bacon flasks," she says.
Like many phenomena these days, bacon mania has spread through the Twitterverse. "Yoga pants are the bacon of clothing!" tweeted college humourist She Wants the D. Meanwhile, a Vine video is making the rounds showing teenagers stuffing coils of raw bacon into pipes to smoke it; to view it, check out @mightymontana (or, if you have a delicate stomach, don't). Through Twitter and her blog Eat Like a Girl, Londonbased food writer Niahm Shields is piggybacking on the bacon buzz to raise funds for her self-published book, Project: Bacon, an 80-recipe cookbook including one for bacon marshmallows. It's something "the bacon-loving public wants," insists the writer, who raised 12 per cent of her £20,000 goal in just 24 hours.
And then there's Mike Geno, a Pennsylvania food portraitist who takes the obsession to a whole new level: bacon as muse. A video on Geno's site shows the artist sketching rashers to classical music, the sinewy forms recalling Georgia O'Keeffe's vaginal flowers. (Geno also has a thing for cheese, which The New York Times explored in an article last year.)
"I was constantly searching for the most beautiful pack in the store," Geno says over the phone from Philadelphia, recalling a time in his life when he drew bacon for a year. "I started hunting for the perfect [ratio] of meat to fat-marbling. Every pack was different, every slab when I took it apart was like a whole new abstract composition … I really enjoy how sensual it is; it's creamy and buttery and it also has subtlety in colour." Through Etsy, the artist also sells a bacon shower curtain, a postcard showing Mona Lisa composed of bacon and the hot-selling lone bacon heart on paper.
Personally, I have never understood the obsessive appeal that bacon holds for people. True, I grew up in a Jewish household, but I was raised by eccentrics, so the pig wasn't off-limits. In fact, my father used to occasionally boil pig's feet, the vile, sugary scent that rose from the pot always smelling to me like sweet death. Of course, fans hold that the smell of bacon is the aroma of life's best moments, of weekend mornings and campfire cookouts, lazy breakfasts in bed and countryside getaways. And now its image – the manifestation of those evocations – is ubiquitous in our homes, far in both distance and thought from those awful-sounding hog cages that Gosling railed so eloquently against.
"Bacon," Geno says, "is the most abstract of food, [providing] little connection between origin and product." Like I said, pity poor Ryan.
Iris Benaroia is a writer and editor in Toronto.
Follow her on Twitter: @iris9.